There are several tools to check plagiarism out there. You only need to type "plagiarism checker tools," on the search engine, and you will see many of them. These tools are considered the best for bloggers. It is because you can check whether your article is plagiarized or not before you publish it. Google will ultimately penalize you if your article is plagiarised above a certain percentage. Therefore, these tools can help you in detecting plagiarism and checking your articles. 
However, due to many choices, the users don't know which one is the most reliable. Well, there is nothing to worry about. In this article today, we are going to discuss the top reliable plagiarism tool. We have identified and evaluated the best tools for you so that you can make the right decision. Following are a few of the most reliable plagiarism checker tools in 2021.
Grammarly
There is no denying that Grammarly is the most reliable plagiarism checker tool out there. Along with its plagiarism check feature, you get other phenomenal features as well. These may include checking grammar, conciseness, and readability. You can either download this tool or use it on the web. If you want, you can use it on your phone as well. 
For basic stuff, you can use its free version. However, if you want to check your content comprehensively, you can check out its paid version. Following are the pros and cons of Grammarly:
Pros:
User friendly

Three pricing packages

Utilizes ProQuest Academic Databases

Accurate Plagiarism Check
Cons:
The free version is extremely basic and does not include other features
Copyscape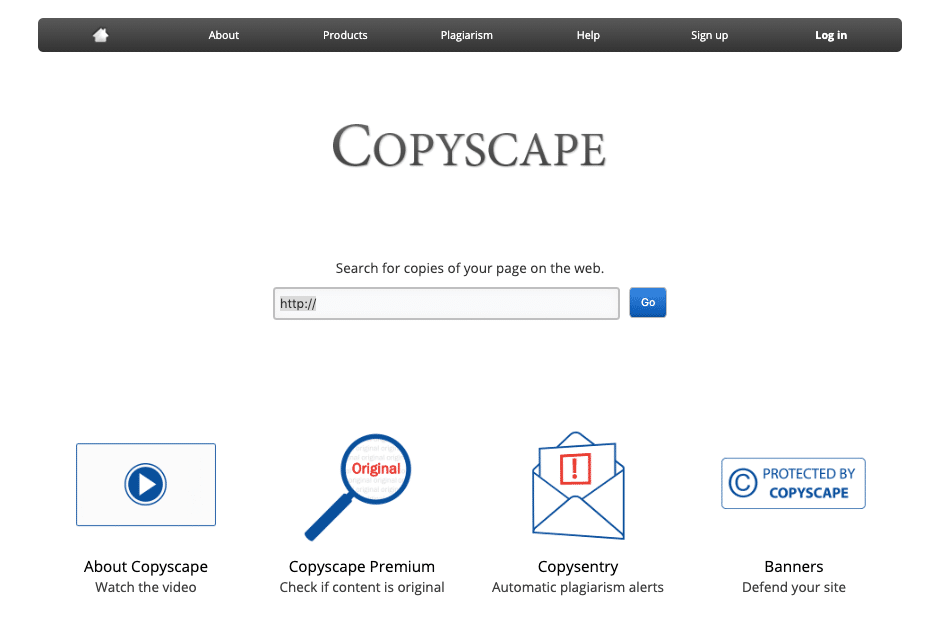 If you are looking to check bulk content, your go-to option should be Copyscape. Similar to Grammarly, this tool also gives you two options. You can either check out content for free or get the paid version for more features. 
It is ideal for those who want to check a lot of content. It has a feature that can check your entire website. Isn't that amazing? You may need to pay 3 cents for 200 words. But, for an additional 100 words, it will add 1 cent. It is undoubtedly an ideal tool for bulk content but can sometimes get a bit expensive. Following are its pros and cons:
Pros:
Easy to use

Side by side comparison feature

Accurate and effective in identifying the plagiarised content

Best for bulk content
Cons:
Expensive 

May highlight the properly cited references
ProWritingAid
If you are a screenwriter or an artist, you may then opt for ProWritingAid. Authors, novelists, and creative writers prefer to use this tool. With the help of this tool, you can check every type of full-length material. In addition to plagiarism, you can also check the grammar and other writing issues. 
You can integrate it with Google Docs, or if you want, you can use it inside MS Word. Even though it can help you check full-length material, at times, it may get a bit expensive. The cost of checking ten scans just for one month is $10. Following are its pros and cons:
Pros:
It can be used with MS Word and Google Docs

Accurate in checking full-length material

It can be utilized in all operating systems
Cons:
$10 for just ten scans per month is quite expensive
Duplichecker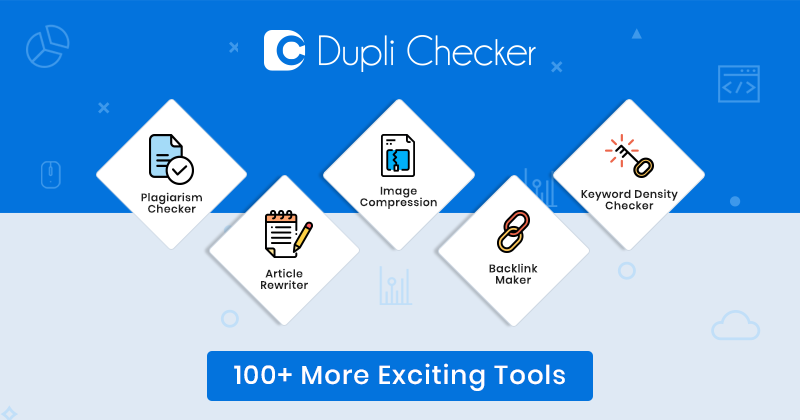 Unlike various other plagiarism checker tools, Duplichecker is completely free. Whether you are a student or a teacher, you can utilize this tool to check the content. Moreover, using it is also very easy. All you need to do is copy the content, paste it in, and click the button for the process to get started. 
The other features of Duplichecker may include checking grammar, spelling, and word count. Even though it is free to use, you can only check 1000 words. If you want to check more words, you may need to repeat the process with the remaining words. Below are a few pros and cons of this tool.
Pros:
User friendly

Entirely free

Ideal for the teachers and students

Multiple features
Cons:
1000 words limit

Old interface
Unicheck
Unicheck is deemed an ideal plagiarism tool for academics. According to Unicheck, the tool is used by over 1,100 institutions around the globe. This claim by Unicheck shows that this tool is a reliable one. If you want, you can get its reviews from the users as well. The average rating of Unicheck is 4.5 stars which is considered to be good. 
With the help of this tool, you may check the plagiarism of your content quite comprehensively. However, it does not include other advanced editing options and features. Following are Unicheck's pros and cons:
Pros:
Affordable if compared with other paid tools

User friendly

Accurate in checking plagiarism

It keeps your content private and doesn't save it
Cons:
No extra features or editing options

You are limited to just one page if you use Unicheck free plagiarism tool.
SmallSEOTools
If you are looking for a free tool that can give you various features, you can try SmallSEOTools. It is a great tool, but if compared to Grammarly, it may not be that effective. Still, it offers you a lot of features for free of cost. You can check plagiarism, grammar, spelling, and word count.
Also, as its name suggests, this tool can help you with SEO as well. SmallSEOTools includes a few backlink options. With the help of that, you can easily and comprehensively analyze your website for SEO. Following are a few pros and cons of this free tool.
Pros: 
Amazing features

Entirely free to use

Easy to use
Cons:
Not so powerful in comparison to other plagiarism checker tools

A lot of ads on its website
Bottom Line
These are just the top most reliable plagiarism checker tools that you can use. There are various other tools as well. It will all depend upon your needs and budget to choose a plagiarism checker tool. You can get the paid one if you have an adequate amount of budget. However, like most people, if you are a student and short on budget, you can utilize the free ones.